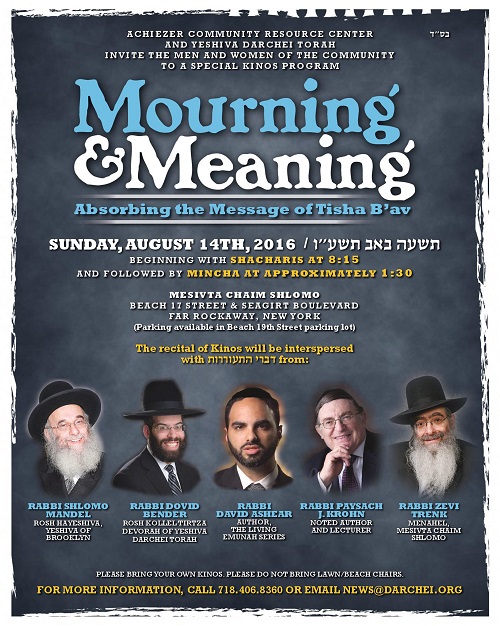 Please click the link below to find the LIVE stream on Kol Halashon under the title "YDT Achiezer Tisha B'Av"
LIVE STREAM
Achiezer Community Resource Center and Yeshiva Darchei Torah invite the men and women of the community to a special Kinos program.
Mourning and Meaning
Absorbing the Message of Tisha B'Av
Tisha B'Av 5776 Sunday, August 14th, 2016
Beginning with
Shacharis at 8:15am
and followed by
Mincha at approximately 1:30pm
At Mesivta Chaim Shlomo
211 Beach 17th Street in Far Rockaway
(Parking available in Beach 19th Street parking lot)
The recital of Kinos will be interspersed with Divrei Hisorirus from:
Rabbi David Ashear
Author, The Living Emunah Series
Rabbi Dovid Bender
Rosh Kollel Tirtza Devorah of Yeshiva Darchei Torah
Rabbi Paysach J. Krohn
Noted Author and Lecturer
Rabbi Shlomo Mandel
Rosh HaYeshiva, Yeshiva of Brooklyn
Rabbi Zevi Trenk
Menahel, Mesivta Chaim Shlomo
Please bring your own Kinos. Please do not bring lawn chairs.
For more information please email news@darchei.org